The New Business of Creatives
Amidst fast-changing trends and adapting to a post-pandemic world, what are the areas that creatives can leverage on in the horizon? Join us for a cozy night of dialogue with industry experts discussing key trends and opportunities in the creative landscape and networking with the creative community on building the new business of creatives. Light refreshments provided.
Make a date with us here: bit.ly/VICPA28July2022

Details:
Date: 28 July 2022 (Thursday)
Time: 5pm – 8pm
Venue: Projector X: Riverside, 30 Merchant Road, Riverside Point #04-13, 058282

Speakers Profile: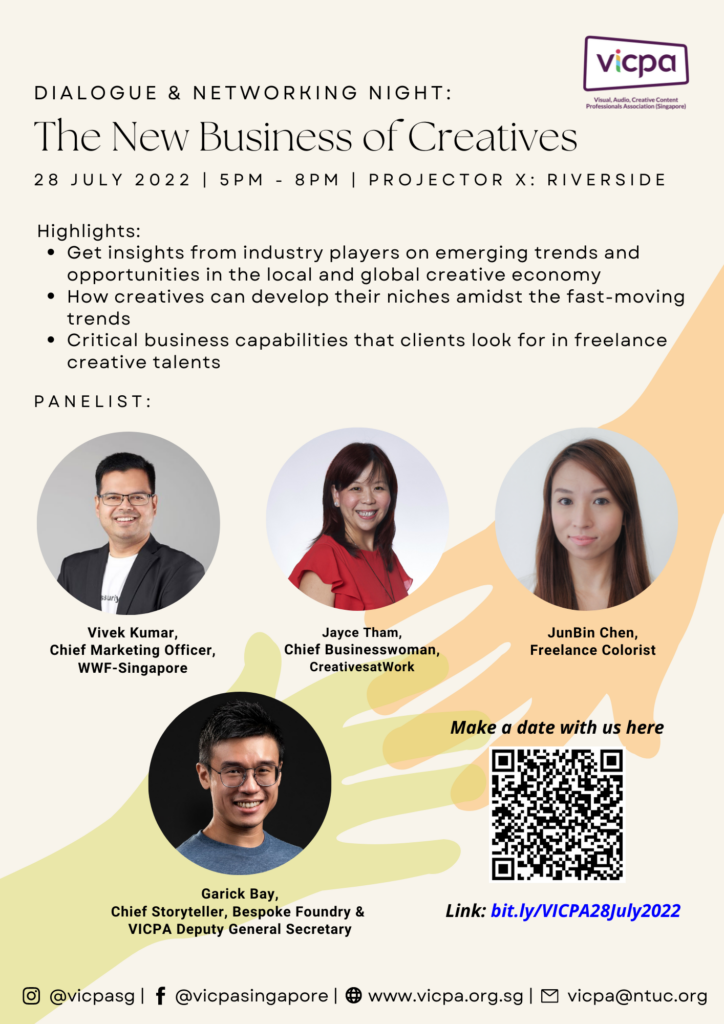 Vivek Kumar, Chief Marketing Officer, WWF-Singapore
Vivek Kumar is the Chief Marketing Officer for WWF-Singapore (World Wide Fund for Nature Singapore), leading marketing, web infrastructure, strategic communications and external relations. In his role, Vivek and his team also lead campaigns focusing on conservation and climate change goals such as deforestation, haze pollution, food security, plastics, sustainable finance, sustainable consumption and illegal wildlife trade. He works closely with communities, businesses and governments to advocate for positive change.

Jayce Tham, Chief Businesswoman, CreativesatWork
Hailing from the corporate world, Jayce co-founded CreativesAtWork, a media agency that brings together creative freelancers and project owners. Jayce is a big-picture, visionary leader who has the unique ability to still keep one eye on the details. She encourages innovation and experimentation and infuses heart, soul, spirit and passion in all that she does. Her forward-thinking mindset and strong passion for identifying growth opportunities puts her in the business development role. She is highly adept at building collaborative cultures, cultivating solid stakeholder relationships and driving change.

JunBin Chen, Freelance Colorist
Junbin (or JB) has been working in the Singapore film and television industry for over ten years; particularly in the post-production sector. She has worked as the chief colorist in companies such as Widescreen Media and Mocha Chai Laboratories, with some of the top directors and on some of the most recognisable films in Asia.
She has also gone behind the pixels and worked for the software giant DaVinci Resolve as a trainer and researcher. Currently, she is freelancing colorist in the region, working on local and international commercials, film and television. In her free time, she drinks coffee and travels.

Garick Bay, Chief Visual Storyteller, Bespoke Foundry & VICPA Deputy General Secretary
Garick is an engineer turned freelance photographer and have been in the industry for over 10 years. He started working as an engineer before deciding to pursue his passion in photography. Other than photography, he is also an avid sportsman who plays a multitude of sports, and also coaches sportclimbing.